We have been awarded the Onda Cero Menorca 2023 Environment Prize!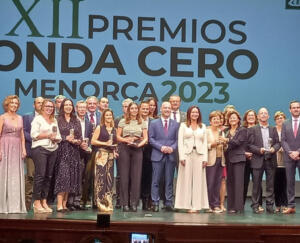 We're really excited to have been awarded the Onda Cero prize dedicated to the environment! This award encourages us to continue working for the conservation of our beautiful Menorca. We are very happy and we want to thank the jury and Onda Cero Menorca for giving us this award.
THANK YOU and CONGRATULATIONS to all our great environmental heroes, because this award is also yours, who day by day put all your talent into caring for, protecting and regenerating our island and without this great collective effort none of this would be possible: 0 Plastic Menorca, GOB Menorca, Leader Illa de Menorca, OBSAM, SOM, Per la Mar Viva, Tursiops, Surf&Clean, Sa Xaranga, Es Far Cultural, Fundació per a Persones amb Discapacitat de Menorca, Alnitak, Agroassessor and Nontropia, among many other people and volunteers who help us to keep moving towards a more sustainable island. You are amazing!
We are also very grateful to the people, entities and collaborating businesses that have supported us and that have trusted in this project – this prize is also for you, thank you very much!
And last but not least, THANK YOU to the Conservation Collective and the rest of the Collective Foundations that help us so much and inspire us to continue protecting what we love.
Listen to the interview on Onda Cero Menorca Radio with Rebecca Morris, Executive Director of Menorca Preservation