MENORCA PRESERVADA
CONTINUOUS TRAINING 

PROGRAMME FOR SUSTAINABLE 

AGRICULTURE IN MENORCA
​
PROGRAMA DE FORMACIÓN CONTINUA PARA LA SOSTENIBILIDAD DE MENORCA
From Menorca Preservation we believe that the agricultural activity of Menorca is the one that ensures the food of its people, it is a key element to maintain the landscape, to fight against climate change, to diversify the economy, to structure the territory and the society of the rural world in a sustainable way, to maintain its cultural traditions, etc.
Years of change lie ahead of us, where the demands of the market will set us on a new path to which we will have to adapt in order to guarantee the continuity of the farms. The disappearance of agricultural activity would have irreparable consequences, not only for the farmers, but for the whole of Menorcan society.
Desde Menorca Preservation creemos que la actividad agraria de Menorca es la que asegura la alimentación de sus personas, es un elemento clave para mantener el paisaje, para luchar contra el cambio climático, para diversificar la economía, para estructurar el territorio y la sociedad del mundo rural de manera sostenible, para mantener sus tradiciones culturales…
Por delante nos esperan años de cambios, dóde las exigències del mercado nos marcan un nuevo camino al que nos tenemos que ir adaptando, para garantizar la continuidad de las explotacions. La desaparición de la actividad agrícola tendria conseqüències irreparables, no solo para sus campesinos, sinó para toda la Sociedad Menorquina.

That is why we want to support the sector, providing them with the tools that will help them to be more sustainable economically, socially and environmentally. By giving value to local products and the way they work in our primary sector, it would help to solve many of the problems they face today.
This gave rise to the idea of offering a training programme that could respond to the needs of the sector.
Por eso queremos apoyar al sector, facilitándole las herramientas que les ayude a ser más sostenibles economicamente, socialmente y medio ambientalmente. Poniendo en valor el producto local y su forma de trabajar de nuestro sector primario, ayudaria a dar respuesta a mucha problemàtica a la cual hoy se enfrentan.

De aquí nace su idea de ofrecer un programa de formación que pueda dar respuesta a las necesidades del sector.

Through a training programme, in which blocks on the Basics of Sustainable Agriculture, Plant Production, Animal Production, Farm Management and Marketing will be taught, we will help agriculture and livestock professionals by providing them with the necessary knowledge for a more sustainable management of their farms.
The programme will enable farmers to have a holistic view of their farm business and learn new and more sustainable techniques.
A través de un programa formativo, en el que se impartirán bloques de Bases de la agricultura Sostenible, Producción vegetal, producción animal, gestión de sus explotaciones agrícolas y comercialización, ayudaremos a los profesionales de la agricultura y ganadería dotándolos de los conocimientos necesarios para una gestión más sostenible de sus fincas.
El programa permitirá a los agricultores y ganaderos tener una visión integral del negocio de su explotación y aprender nuevas técnicas más sostenibles.

The full programme will be structured in 5 main learning areas with a total duration of 140 hours to be delivered in weekly 2-hour sessions between January 2022 and November 2023. Interested parties can register for as many courses as they wish.
The training programme will be fully subsidised by Menorca Preservation and Leader, at no cost to the farmers.
El programa completo estará estructurado en 5 grandes áreas de aprendizaje con una duración total de 140 horas que se impartirán en sesiones semanales de 2 horas de duración entre enero 2022 y noviembre 2023. Los interesados se pueden inscribir en todos los cursos que deseen.
El programa formativo será subvencionado íntegramente por Menorca Preservation y Leader, suponiendo coste cero para los agricultores.

We have joined forces with many organisations in Menorca to collaborate and to be able to offer a programme that responds to their needs, because we believe that the only way to achieve an objective is by all rowing in the same direction.
Don't think twice and take advantage of this unique opportunity to improve the sustainability of your farm!
Nos hemos unido muchas entidades de Menorca para colaborar y poder ofrecer un programa que dé respuesta a sus necesidades, porque creemos que la única forma de conseguir un objetivo es remando todos en la misma dirección.
¡No te lo pienses más y aprovecha esta oportunidad única para mejorar la sostenibilidad de tu finca!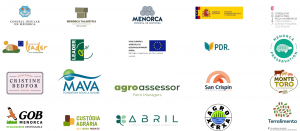 FULL PROGRAM STRUCTURE
ESTRUCTURA DEL PROGRAMA COMPLETO