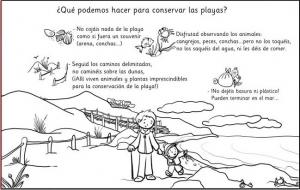 Grants
Sea
Sa Xaranga guide book
2.000€ awarded
Organisation Applying for Funding
Sa Xaranga is a company dedicated to provide services related to the socio-educational and cultural fields, more specifically, to the organization of didactic and cultural mediation activities.
Area of Interest
Sea – marine conservation.
Summary of the Project
Sa Xaranga has been granted with funds in order to carry out the environmental project called "Welcome to Menorca! A guide to good practices for families visiting Menorca". The project is based on the creation of a handbook to publicise good environmental practices aimed especially at family audience who
visit Menorca and, in this way, make them participate in its environmental conservation.
General Objectives
The general objective of ​​this project is to publish a handbook to promote good environmental practices – aimed especially at family audiences who visit Menorca, in order to make them take an active role in the conservation of the island. The handbook will effectively be an essential tool for all those families who visit Menorca and who are committed to the nature protection, both in their place of origin and in their holiday destination.
Specific Objectives
The specific objectives of the project include to promote good environmental practices among the families that visit Menorca every year, to promote the biodiversity of Menorca, emphasizing the conservation of marine life, to promote the development of sustainable tourism, raising awareness about the environmental reality of Menorca, to minimize the ecological impact of receiving more than 1 million visitors per year.
Collaborations
Silvia Vivó, illustrator and artisan; Imprenta Lligall, part of the Fundació de Discapacitats de Menorca and  Xisco Roig, doctor in geography and geology.