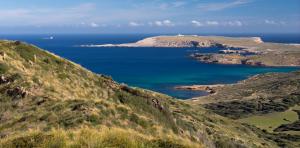 Grants
Sea
MOBY MUMMY – Sperm Whale Study
3.000€ awarded
Organisation Applying for Funding
TURSIOPS is a non-profit association founded in Palma de Mallorca in 1998, with the aim of contributing to the conservation and protection of cetaceans, as well as promoting the dissemination of the research carried out on them, focusing especially on our environment, the western Mediterranean.
Area of Interest
Marine conservation: collecting data for the creation of MPAs in order to safeguard protected species (sperm whale). In addition, and considering the non-human cultural factor identified and recognised for the sperm whale communities, support for the conservation of 'local culture' of sperm whales.
Project Summary
The 'Moby Mummy' project of the TURSIOPS association consists in carrying out a study of the sperm whale populations in the north of Menorca and their breeding areas.
General Objectives
To identify possible nursery area for sperm whales in the North of Menorca.
Specific Objectives
To characterise and describe the conditions of cetacean species temporarily present in the area.
To check the presence of sperm whales in the northern part of Menorca and the distribution by classes of their encounters.
To identify feeding areas based on dive profiles.
To draw up a collision probability map.

Collaborations
Menorca Biosphere Agency
Maó Town Council
OBSAM
Jaume Ferrer Research Centre
Marilles
Ocean Beer