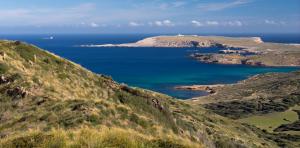 Grants
Plastics
Plastic Free Menorca A2030
201.391,62 € awarded
TOTAL PROJECT COST – €201.391,62 
IN PROGRESS
Homegrown project
Project Duration: December 2022 – November 2023
Area of Interest: Plastics
Other entities involved: GOB Menorca, Obsam, Leader Illa de Menorca, 0 Plastic Menorca
THE PROJECT
Primary Impact
Reducing pollution
Summary of the project
The funding granted by the Ministry of Social Rights and Agenda 2030 to the Plastic Free Menorca Alliance, led by Menorca Preservation, will allow to continue strengthening the Action Plan for the reduction of plastic pollution in Menorca 2030. This plan sets out various actions aimed at raising awareness, promoting and encouraging the elimination of the use of plastics in Menorca in order to reduce plastic pollution in the island's natural environment as much as possible.
Therefore, the funding received will be used during this year to work in 6 areas:
To raise awareness of the problem of plastics, regulations and good practices among both the general public and the business sector.
Continue to promote Plastic Free certification, which consists of advising and distinguishing businesses and organisations that reduce the use of plastic, ensuring that they comply with current waste regulations.
Install ten water fountains in busy public places, thereby reducing the use of plastic water bottles.
Create a network of points for the reuse of beach products, such as beach umbrellas, children's games and floats, extending their life cycle.
Launch an information platform on the resources available to reduce the use of plastic, especially aimed at tourists. This will include key aspects such as certified companies, location of sources, reuse points for beach products and other relevant information.
Reinforce the circular economy project PescART Menorca, focused on the recycling of fishing nets for their reconversion into new economically viable products.
Environmental Focus
Social, Economic and Cultural Outcomes
Encouraging people to have a greater appreciation of the natural world and its value
Encouraging governments, public institutions and media to act in ways that support the natural world
Supporting businesses and their employees to better preserve, protect, and regenerate the natural world
Encouraging changes in public/consumer behaviour to better preserve, protect, and regenerate the natural world;Reduced waste/better waste management