11 reuse points for beach articles, a new Plastic Free Menorca initiative
The initiative, included in the Action Plan for the Reduction of Plastic Pollution in Menorca 2030, is promoted by the Plastic Free Menorca Alliance and Menorca Preservation, thanks to the support of the Ministry of Social Rights and Agenda 2030.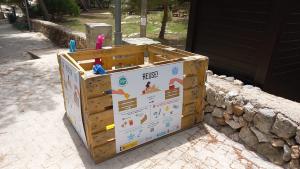 This summer, Menorca will have eleven points located in different establishments and beaches on the island to reuse beach products such as parasols and beach games. With this pilot test, the Plastic Free Menorca Alliance aims to reduce the abandonment and generation of waste derived from these products, thus promoting their collective use.
The points are distributed to different parts of the south coast of the island: 7 of these points can already be found on the beaches, in the municipality of Ciutadella to Cala en Bosc, Son Xoriguer, Cala Blanca and Santandria; and to Sant Lluís, to Punta Prima and Binibèquer. The remaining 4 points are located in different tourist establishments: 2 at hotels, the Royal Son Bou Family Club and the Mestral and Llebeig Apartments of Set Hotels; 1 at the Son Bou campsite; and 1 at the Maó headquarters of Autos Menorca.
To create this network of reuse points, 11 boxes have been made from recycled pallets, donated free of charge by the San Crispin Cooperative and Dispreu, which have a door to access inside and be able to pick up and drop off items comfortably. On the other hand, the sides of the boxes are designed to hold the parasols, reducing the risk of them flying off on windy days.
The initiative is part of a long list of actions focused on reducing plastics in Menorca, worked on during the first year of life of the Alliance and finally included in the "Action Plan to reduce plastic pollution in Menorca 2030" developed by the Alliance and the International Union for Conservation of Nature (IUCN) in 2021. To continue with this roadmap, the environmental organisation Menorca Preservation, has secured funding from the Ministry of Social Rights and Agenda 2030 to continue its support to the Plastic Free Menorca Alliance and to carry out this pilot test along with many other initiatives, such as the installation of 11 water fountains in different parts of the island.
All these initiatives can be seen on the Plastic Free Menorca website and are part of the "0 Plastic Experiences" which unites all these actions that aim to reduce our plastic consumption.