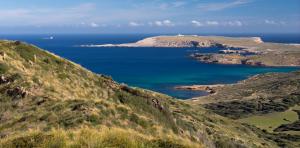 Grants
Land
MENORCA PRESERVADA Farm Consultations
5.808,00€ awarded
TOTAL PROJECT COST – €10.000
IN PROGRESS
Organisation Applying for Funding: Menorca Preservation and Agroassessor.
Project Duration: From September 2022
Area of Interest: Land – Training programme
Summary of the Project
The aim is ensuring and supporting that the lessons being taught in the MENORCA PRESERVADA training programme are able to be implemented. 
General Objectives
As a continuation of the courses for the viability and sustainability of the local agricultural sector, MENORCA PRESERVADA wants to go a step further than just the training programme by providing on farm advice/consulting sessions to those putting into practice what has been learnt in the courses.
In order to strengthen and measure the real impact of the training in sustainable agriculture on the Menorca's farms, it is advisable to offer on-hand support sessions on farms that commit to implementing sustainable changes on their land. 
Proposal:  2 sessions of 2 hours of private advice to 10 farms that meet the requirements: 
Take a minimum of 2 courses of the module on sustainable production.

 

Complete a minimum of 4 courses in the Plant Production and/or Animal Production modules.

 

Commit to transitioning to more sustainable practices.

 
Objectives of the proposal: 
Ensure the correct implementation of sustainable agriculture techniques taught in the training programme.

 

Encourage farmers who show more interest in preserving the territory.

 

Measure the real impact of the training programme.