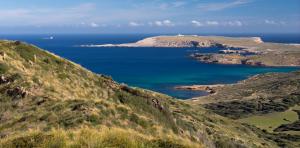 Grants
Sea
0 PLASTIC MENORCA – Diving Expedition (3rd edition)
€3.853 awarded
Summary of the Project
0 Plastic Menorca select and bring together a group of more than 30 volunteers coming from all over Spain to involve them in an immersive experience with the missionto increase their environmental awareness and inspire others around them to get involved. The project promotes a change in consumption habits and encourage them to make environmental proposals in the companies they work for.After the success of the 1st Expedition in 2020 and the 2nd in 2021, our desire to continue raising environmental awareness in Menorca and the request of the 0 Plastic community to participate in new expeditions, we have decided to launch the "3rd 0 Plastic Menorca Diving Expedition" under the slogan "Invisible Plastic", i.e. the plastic accumulated on the seabed that we do not see but that significantly affects biodiversity and the marine environment. According to the Ocean Organisation, 99% of the plastic waste dumped in the sea accumulates on the seabed. 
General Objectives
To raise awareness about the problem of plastic pollution
To change the behaviour of participants through underwater plastic collections in order to reduce, reject and reuse plastic, especially single-use plastic
To promote conscious and responsible tourism on the island of Menorca as an example of success that cares for the Mediterranean.
The Diving Expedition
Departure from the Port of Mahón.
Plastic collection points (23th and 24th September): Illa del Aire, Cala Rafalet and Port de Maó (depending on the weather).
Beach Talks: We will have environmental experts who will talk about the damage of plastic on marine fauna and flora, waste management and leaks, the problem of microplastics, solutions and alternatives.