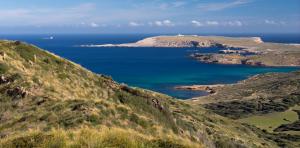 Grants
Sea
Kilometres of Plastic for Iris 2023 – 2024
15,000€ awarded
TOTAL PROJECT COST – €21,975 (2023)
 IN PROGRESS
Organisation Applying for Funding: YouSocial Volunteer – 0 Plastic Menorca
Project Duration: January 2023 to October 2023 and November 2023 to October 2024* 
Area of Interest: Sea – Awareness raising
* In order to reinforce the strategic approach of this project, funding has been pre-approved for the year 2024. 
What is Kilometres of Plastic for Iris?
A new edition of the Kilometres of Plastic for Iris project has been launched, which invites young secondary school students called "0 Plastic Warriors", to organise conscious routes through nature with friends and family with the mission of sharing ideas to reduce plastic pollution on the planet. A collective goal was set to reach 20,000 km travelled against plastic among all participants in Menorca, Mallorca, Ibiza and Formentera from 1st February 2023 to 30th March 2023 and from 1st February 2024 to 30th March 2024 (4th edition).
Goals and General Objectives
To reflect on and share solutions and alternatives to the use of plastic in everyday life, while walking kilometres for the cause and collecting the plastic found along the route. In addition, all participants of Kilometres of Plastic for Iris receive a digital training kit so that during the conscious routes they can think of creative solutions and alternatives to reject, reuse, but above all reduce, both at an individual level and at a public or business level.
1 MINUTE FOR YOUR ISLAND" COMPETITION
The 0 Plastic Warriors, young secondary school students living in the Balearic Islands who organised the conscious routes through nature in the last edition, could participate in the contest "1 minute for your Island", a 1 minute video competition in which they had the opportunity to demonstrate their talent and creative ideas to win the battle against plastic, answering the question: What would you do to fight against microplastic pollution on your island?
The winners will have the opportunity to participate in a marine conservation expedition with various environmental associations. In addition, alternative prizes will be offered (in 2022 there were up to 70 prizes: kayaking, paddle boarding, boat trips, T-shirts and sweatshirts).
Organisations involved in the project
Menorca Preservation
Mallorca Preservation Foundation
IbizaPreservation
Conservation Collective