Third edition of Kilometres of Plastic for Iris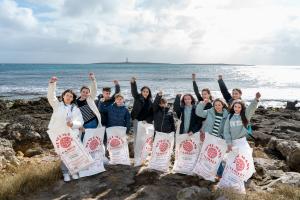 Menorca Preservation once again supports the project "Kilometres of Plastic for Iris", a Balearic initiative aimed at young people aged 12 to 19, with the aim of encouraging new generations to get involved in reducing plastic pollution in the Mediterranean Sea. 0 Plastic, a movement led by the association YouSocial Volunteer, is organising the action, in which Mallorca Preservation and IbizaPreservation, members of the Conservation Collective, a global network of environmental foundations of which Menorca Preservation is also a member, are also taking part.
"Kilometres of Plastic for Iris" invites young people from secondary school to organise conscious excursions in nature with friends and/or family and to share ideas in video format on how to reduce plastic pollution on their islands. This third edition focuses on the problem of microplastics, fragments of less than 5 mm in diameter that are often unnoticed, but which represent a major threat to ecosystem health. In 2022, 14,000 km were already walked by all participants, and this year the initiative has set an ambitious challenge: to reach 20,000 km against plastic.
In addition, participants will have the opportunity to enter the "One minute for your island" competition in groups of two by creating a one-minute video in which they answer the question: "What would you do to fight microplastic pollution on your island? The competition has the collaboration of Alnitak Research Institute, which will allow the winners of the competition to enjoy a 1-day (for youngest participants) or 7-day (for the older ones) expedition sailing in the Mediterranean together with a group of young people and marine researchers to carry out marine conservation activities.
Thanks to Kilometres of Plastic for Iris we have been able to meet and work with young people from the Balearic Islands who have a lot to say and contribute in relation to the main challenges facing our planet and we are proud to be able to give them a platform where together we can seek solutions to problems as serious as plastic pollution. From Menorca Preservation we are very happy to support initiatives that encourage the creation of spaces for young people where they can share their solutions to move forward together towards a plastic free and more sustainable future for our islands.

Rebecca Morris, Executive Director - Menorca Preservation