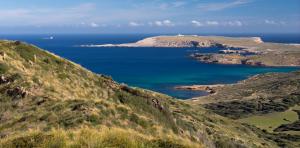 Grants
Sea
OBSAM – Conservation and restoration of Maó Harbour shallow bay
€27.700 awarded
TOTAL PROJECT COST (MÁO HABOUR SHALLOW BAY) – €40.346
IN PROGRESS
Organisation Applying for Funding: IME-OBSAM
Project Duration: 3 years – From April 2022 to March 2025  – IN PROGRESS.
Area of Interest: Sea – Marine Research Study
Detailed Budget (Maó Harbour only): €12

.646 (IME-OBSAM), €27.700 (Menorca Preservation)

Other funding:

€25,000 per year for a period of 3 years (Marilles Foundation)
THE PROJECT – Conservation and restoration of shallow bays in Menorca
Summary of the Project
Menorca is home to some of the best-preserved shallow bays in the Balearic Islands and the Mediterranean Sea, which could serve as a model or example for other Mediterranean islands and regions. We believe that this is a good time to start a project for the conservation and restoration of the shallow bays of Menorca, since, as we have said, they are in a sufficiently good state. In addition, the expansion of various ports located in the interior of bays is currently planned, and we think that the realization of this project will allow us to be have the knowledge to ensure that all these works are carried out in the most respectful way possible, and even be able to influence the reorientation of part of these interventions when necessary. Specifically, in the port of Maó, there are at least four projects pending approval or favorable reports in order to be executed. One of them consists of the construction of a footbridge to connect Moll den Pons with Cala Corb, a second is the expansion of the south pier of the illa del Rei, the repair of the Fonduco pier, the project to locate moorings of great lengths in Cala Figuera and another project to repair the banks of the Sant Jordi canal. In addition, the Port Authority has also expressed its intention to build a docking ramp in Cala Teulera.
Due to the immense natural values ​​that the port of Maó still harbors, it is necessary to draw up and apply a conservation and restoration plans for this bay.
Description of the project
Given all these facts, at the beginning of April 2022, the OBSAM-IME has signed an agreement with the Marilles Foundation, through which the Foundation will finance with an amount of €25,000 per year for a period of 3 years, the scientific-technical work relative to the Program "Conservation and restoration of shallow bays in Menorca". This project, in addition to a part of scientific-technical work, which will be carried out by the OBSAM-IME, includes a part of political action and another of dissemination and involvement of society in the project.
For the execution of the entire part of the project corresponding to the port of Maó, a total budget of €40,346 euros has been estimated, in three budget years.