The circular economy project PescArt Menorca holds a meeting with the fishing and artisanal sector

The recycling project of discarded fishing nets by Menorca Preservation and the Menorca Sin Plástico Alliance creates synergies between the fishing sector and local craftsmanship.
Unity is strength, as the saying goes, and Menorca Preservation and the Plastic Free Menorca Alliance make this saying their working maxim. So much so that last Friday they held a meeting attended, on the one hand, by Ciutadella's fishing sector and, on the other, by the professional craftspeople involved in the project. In the space, which was also attended by representatives of Ports de les Illes Balears, a relaxed conversation was held on the current situation and future challenges of both sectors, exchanging perspectives and generating opportunities for cooperation, such as the PescArt project itself under which the meeting was sponsored.
PescArt has shown us what they promote with the nets we put in the recycling bin. It is a pleasure to see how nets that we can no longer use can be used for such beautiful things. In addition, we give more life to plastic and solve the consequent pollution problem.

Xavi Marqués, captain of Ciutadella's Guild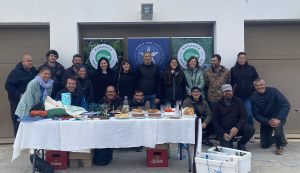 I thought it was a very interesting project right from the start. It's great to be able to create new products from waste that was very difficult to recycle. I think that the meeting with the fishermen has been positive for both sides: they have been able to see the products and we have had new ideas on how to work with the nets.

Júlia Triay, local artistan from Artespai