New beach in Menorca in the spotlight of citizen science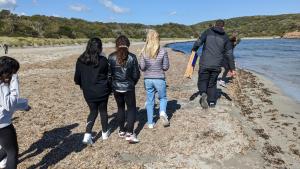 Microplastic Watchers is a marine citizen science project integrated into the Observadores del Mar platform. The aim is to collect data on the presence and abundance of micro- and mesoplastics in the marine environment, in order to work on diagnosing and raising awareness of this global problem. Participants collect monthly data on specific beaches, following a scientific protocol for sampling and classifying plastics of different types and sizes.
This month, 1st year ESO students from the Pasqual Calbó y Caldés Secondary School, with the advice of GOB technicians, travelled to the Grau beach to take the first sand samples and analyse the presence of plastic waste.
Although the conditions were not favourable for the collection of samples due to the strong wind and the banks of posidonia that covered the shore, the students learned how to take samples using a methodology pre-established by the Observadores del Mar platform. They also learned that scientists do not always have the best conditions to carry out their research and that they often have to adapt to the adversities that arise.
In Menorca, the GOB, together with several educational centres, has been collaborating in this project for nearly two and a half years now, analysing the sand on two beaches: Algaiarens in the north and Son Bou in the south.
Thanks to the data collected it is known that the concentration of microplastics, especially pellets, is higher on the beach of La Vall with 171 plastic fragments per square metre, although in Son Bou, being a long sandy area of almost two and a half kilometres, the numbers indicate that there could be more than a million and a half plastic waste in the sand.
With the addition of the Grau beach, data will be obtained from the east coast, thus increasing our knowledge of the incidence of microplastics on the island's coastline.
This initiative is carried out by GOB Menorca within the framework of the Plastic Free Menorca project, promoted by Menorca Preservation and the Plastic Free Menorca Alliance thanks to the support received from the Ministry of Social Rights of the Government of Spain and the Secretary of State for the 2030 Agenda.