Long life to fishing nets
Our upcycling initiative PescArt Menorca launches new website and video, while increasing its sales outlets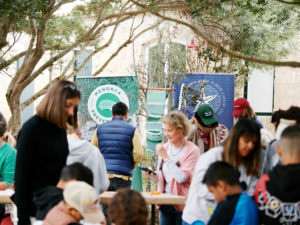 PescArt Menorca is the circular economy project promoted by Menorca Preservation through our Plastic Free Menorca Alliance. Its objective is as simple as it is profound: to recycle the fishing nets discarded by the fishermen of our island as raw material to produce artistic works and commercially viable artisanal products.
The initiative addresses the significant environmental impact that these nets were causing, restoring their value and promoting the connection between the preservation of the environment, the fishing sector and the arts and crafts guild, as well as combining it with key alliances with social actors, such as the Foundation for People with Disabilities, the Red Cross and Caritas. Indeed, the search for synergies and collaboration is at the heart of this project.
Products and art pieces "100% Made in Menorca"






Throughout 2023, the project has gained commercial strength, thanks to the support received from the Ministry of Social Rights of the Government of Spain and the Secretary of State for the 2030 Agenda, as well as from the Fundació Sa Nostra and CaixaBank within the framework of the "Convocatoria Medio Ambiente 2022".
Thus, thanks to the collaboration of the ports of Ciutadella and Fornells and their fishermen's guilds, PescArt has managed to collect over 1,000 kilos of fishing nets. At the same time, it currently has 23 craftswomen and artists involved, who have produced 12 handmade products and artistic works with a commercial outlet, the sales of which have amounted to almost half a thousand units.
The project launched its informative video during the summer, and now has its website ready for all those who want to get to know the products and works created, the artists behind them, and the desire for change that inspires them. The products are on sale in an increasing number of shops, tourist establishments, cultural spaces… and on the same map you can also find some of the workshops where the craftswomen and artists unleash their imagination and creativity.