+4.000 microplastics and 180 kilos of plastic collected in the 0Plastic Menorca Expedition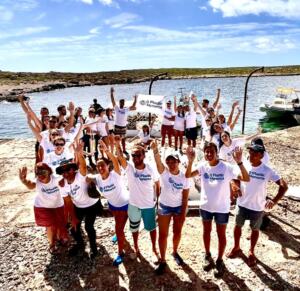 0 Plastic Menorca, a non-profit organisation and member of the Plastic Free Menorca Alliance, promotes awareness through environmental actions to raise awareness of the problem of plastic pollution in the Mediterranean and to promote responsible tourism in Menorca.
Following the success of the three previous expeditions, which have involved more than 100 participants including residents and responsible travellers from all over Europe, more than 15. 000 microplastics and nearly 1 tonne of plastic collected; the fourth expedition has been organised in Menorca: "0 Plastic Menorca Diving Expedition" from 22nd to 25th September 2023, with the aim of encouraging a change in consumption habits to contribute to the conservation of a plastic free Mediterranean with organisations such as Menorca Preservation that has been supporting the project since its origins, the Artiem Hotels group that actively collaborates promoting responsible tourism and carrying out various awareness activities in their Hotels and other companies committed to the reduction of plastic in the oceans such as:Menorca Lines, Menorca Experimental, Merkle, ValeYogaMenorca, Ocean52, Merak Diving, Isas Menorca, Menorca Mar & Charter, Ajuntament de Sant Lluís, Moll de Sa Punta, Sa Cova del Sol, Es Cranc Pelut, Es Cranc, Brasa Salada, Grahame Pearce, Arena Neta, Ecoalf, Pescart, Scone Design, 44 Caras, Obsam, Mendo Batucada, Xavi Menorca, Eric Domènech Studio, Autos Menorca, Consell Insular Menorca, Ocean Film Spain.
The Mediterranean Expedition to protect the seabed
The aim of the 0 Plastic Menorca Diving Expedition is to raise awareness and give visibility to the "invisible plastic", i.e. at the bottom of the sea that we do not see but that significantly affects the accumulated plastic biodiversity and the marine ecosystem. From the 22nd to the 25th of September, several events have taken place in which a team of 30 volunteers from all over Europe have participated, having collected more than 4000 microplastics, 180 kilos of plastic and counting with the presence of top level speakers such as Manuel Maqueda, Professor of Applied Circular Economy and Regenerative Economy at Harvard University and Eva Marsinyach, Oceanographer and scientist of the OBSAM.
The expedition began with an art exhibition held at the Hotel Artiem Carlos with plastics and fishing nets collected from the sea by the local artisan project Pescart and environmental activist Naroa Carvajal Prado, followed by boat trips to collect plastic from the seabed by scuba diving and snorkelling, and "Beach Talks", awareness-raising talks given by environmental experts from Harvard, OBSAM, Menorca Preservation and 0 Plastic Menorca.
In addition, there were educational activities such as a workshop on microplastics on Cavalleria beach, the screening of an environmental documentary, sports activities, music and gastronomy based on local produce.
Despite the fact that not all of the plastic collected is easily recyclable due to its toxicity, some of the less deteriorated waste such as bottle caps, lighters, fishing nets and even solidified oil, together with microplastics, will be reused as an awareness-raising tool by artists, local artisans and projects such as Pescart, Scone Design, 44 Caras and Jimmy Pons.