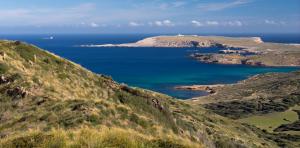 Grants
Sea
OBSAM | Monitoring of the vulnerable fish populations to fishing on rocky bottoms in the Isla del Aire Marine Reserve
7,000 awarded
TOTAL PROJECT COST  – €14,810
FINISHED
Organisation Applying for Funding: IME-OBSAM
Project Duration: 1 year – 2022 – FINISHED
Area of Interest: Sea – Marine Research Study
Other entities involved: Estación de Investigación "Jaume Ferrer", Centro Oceanográfico de Baleares, CN Instituto Español de Oceanografía (IEO-CSIC), Institut Menorquí d'Estudis (IME)
THE PROJECT 
Summary of the project
This project aims to ensure the continuity of the monitoring of fish populations vulnerable to fishing in the coastal waters of Menorca, which began in 2018, in order to turn it into a reference monitoring project in a very specific area in which there is a differentiated fisheries management: the Marine Reserve of the Isla del Aire (RMIA).
Description of the project
The sea is increasingly occupying a more significant role: people are talking about blue economy, about plastic pollution, the posidonia decree has been approved, the biosphere reserve has been extended to the sea and there is also work being done on new management plans for marine areas. These initiatives generally require scientific advice, and therefore, long-term monitoring and follow-up have proven to be a very useful tool in this respect, allowing the suitability of the management measures applied to be assessed and thus ensuring the protection of the marine environment.
Main Objective
An evaluation of the development of the Isla del Aire Marine Reserve three years after its declaration.
Specific Objectives
Repeat sampling of fish populations vulnerable to fishing in the Isla del Aire Marine Reserve.

Assess the state of fish populations three years after the approval of the Isla del Aire Marine Reserve.

Consolidate the reactivation of the OBSAM marine environment monitoring network of Menorca, started in 2000 and interrupted in 2011.

Consolidate collaboration with the different entities and administrations on the island of Menorca involved in marine management and promote the exchange of information with the General Department of Fisheries and Marine Environment.

Evaluate the level of fishing pressure on the fish communities on rocky bottoms by visual censuses.

Identify environmental impacts, threats or problems and detect invasive species (fish, algae or invertebrates).

Extend historical data series to establish future trends.

Support the initiative of a sectoral fishing plan for the natural park.