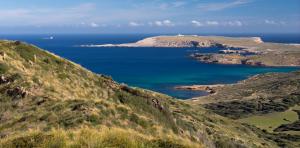 Grants
Sea
OBSAM – Impacts on Marine Environments – Phase 2
8.667 € awarded
Organisation Requesting Funding
OBSAM – Socio-environmental Observatory of Menorca.
OBSAM is a project launched by the Instituto Menorquín de Estudios (IME) at the service of the Menorca Biosphere Reserve. Its main objective is the collection and analysis of local environmental information.
Area Of Interest
Study of the impacts on the Menorca Biosphere Reserve of uses and activities along the coast and marine environment.
Summary of the Project
This project is a continuation of the project carried out in 2020 by OBSAM, assessing the pressure and threat on the Menorca Biosphere Reserve, which obtained satisfactory results.
This second phase of the project aims to carry out a new line of monitoring by OBSAM, assessing other possible impacts, expanding the number of difficulties analysed, improving the analysis system and defining better the areas affected.
General Objectives
To contribute to the improvement of the conservation status of marine ecosystems, as well as to participate in the repair and preservation of the areas already impacted within the marine environment, as much as possible.
Specific Objectives
To collect an in depth inventory of threats and pressures.
To location all uses and activities within the area.
To map the different intensities of pressures and threats on the marine environment around the island.
To detect possible impacts and assess their intensity and reversibility.
To Identify vulnerable/sensitive areas.
To determine the costs and actions of reversing and restoring affected habitats.
To create a basic tool for mapping the areas of activity with marine environmental implications and to manage those found in the 2020 study final report.
To evaluate proposals for improvement described in the preliminary final report from 2020.
To prioritise implemented actions, defining sensitive areas as first priority.
Methodology
The methodology for the implementation of the project is divided into five main blocks:
Study of the activities that influence the ecological state of the marine environment of Menorca.
Impact assessment.
Assessment.
Defining Priorities.
Final report.