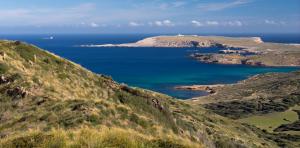 Grants
Sea
Kilómetros de Plástico por Iris
3.700 € awarded
Organisation Applying for Funding
YouSocial Volunteer is a non-profit association that trains and connects young people who are committed to social and environmental causes, and involved in projects within the fields of education, environment, social activism and global health. YouSocial Volunteer want to provide these young people with experiences that helps them develop both personally and professionally.
In 2020, YouSocial launched the 0 Plastic Menorca movement with the aim of raising awareness amongst young people about plastic pollution, to incite a search for solutions, and to promote sustainable tourism on the island.
Area Of Interest
Identifying young people and empowering them to become the guardians and carers of the environment where they live.
Project Summary
Iris Annabel Goldsmith died in a tragic accident on her family farm at the age of 15 on 8 July 2019. Iris had a deep and lifelong connection to the natural world, a gentle way with animals of all kinds, and a particular admiration for the sea. Iris understood that finding harmony with nature is the primary purpose of humanity and took every opportunity to do her bit. Before leaving any beach or natural area she visited, Iris always took it upon herself to organise a team clean up from one end to the other.
The Iris Project aims to empower young people of Iris's age in their own efforts to restore and protect the natural environment wherever they live.
Plastic Kilometres for IRIS
The project aims to promote Awareness Walks among young people, with the mission to educate people around us about the problems caused by single-use plastics, but also aims to walk 1000 km against plastic for IRIS as a team goal.
We will support young people aged 15-18 to organise or join a group of people walking in a natural environment, to share reflections and engage in conversations about the issues faced due to plastic pollution and to discuss everyday solutions, such as plastic reduction, disposal and more sustainable and environmentally friendly alternatives.
General objectives
To identify young people and motivate them to become advocates for the environment where they live.
To give them the opportunity to experience how grassroots conservation organisations provide solutions to some of the most pressing climate change and environmental challenges.
Specific Objectives
To educate young people about the issue of single-use plastics.
To walk 1000km against plastic for Iris.
To run a competition aimed at young people aged 15 to 18 in Menorca and Mallorca.
To potentially look at turning the project into a recurring Balearic project in the future.
Collaborations
Menorca Preservation
Mallorca Preservation Fund
0 Plastic Menorca
Conservation Collective
IRIS Competition
As a result of the Awareness Walks, the debates generated and the knowledge shares, young people aged 15 to 18 who participate in the walks are eligible to enter the Kilometres of Plastic for IRIS Competition.
To take part, participants must create a 1 minute video – '1 minute for your planet' – answering the question: What would you do to fight against plastic pollution on your island? The video must include footage created during the Awareness Walks.
There will be 2 winners, one from each island (Menorca and Mallorca). The prize will be to spend a week with Save The Med Changemakers on their week-long expedition on board the Toftevaag.