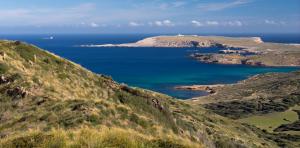 Grants
Sea
Surf & Clean – Learn Through Surfing
2.000 € awarded
Organisation
Surf & Clean is a non-profit association that aims to preserve the life of the oceans, and to raise awareness on the serious issues caused by waste in the sea and on anything which may threaten marine life and the health of the oceans. They aim to propose and carry out actions to solve these problems.
Area of Interest
Preserving life in the oceans and raising awareness about plastic pollution.
Summary of the Project
This project is led by David Blanco from Surf & Clean and its main objective is to introduce surfing in primary school classrooms, as a way to make a cultural switch and to change the relationship between Menorcan students and the sea. The aim is to encourage a transformation in environmental and social perspective, and to create a 'culture of the sea'.
The idea is to train each surfing school to reach 150-160 people per year.
Theoretical sessions will be given to each class using the 'FeSurfing' training platform, which offers resources for subjects other than physical education.
The sessions outside the classroom will also deal with safety and knowledge of the beach in a dynamic manner. The teachings will be completed with a day of age-appropriate awareness and knowledge of the environment. The baptisms include 4 areas: physical, technical, reading the sea and our connection with the sea.
The ultimate goal is to make students fall in love with the sea and to link them to it through a recurrent practice. They will learn to defend it in and out of the water. We can only defend what we know and love.
We also want to create a network of collaboration between primary schools, teachers, surfing/sup schools and local councils that will deliver measurable results in terms of conservation by implementing concrete proposals in the schools, surfing schools and local councils.
General Objectives
To introduce Surfing in primary schools as an ancestral and profound practice, far beyond a sport.
To promote its values: strong links with the sea, active protection of the environment, equality, inclusion, empathy, lifeguarding, etc.
Specific Objectives
That it be a project carried out every year, and that it grows annually to reach more pupils, educational centres, surfing schools and town councils.
Collaborations
Paddle Tour Menorca (Lluis Gomila).