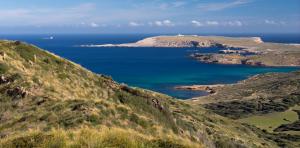 Grants
Sea
MAR NOSTRA | Plastic Campaign – Phase 2
€9,395.00 awarded
Organisation requesting funding:
GOB Menorca
GOB (Grup Balear d'Ornitologia i Defensa de la Naturalesa) is a nonprofit making ecological association, which has been working in the Balearic Islands since 1973. The Menorca branch was created in 1977 and now has about 1,200 members.
GOB's primary object is to contribute to the achievement of a sustainable economy, which by implication requires making human activities compatible with environmental values.
Issue of concern being addressed: Marine conservation
Project Overview:
This is the 2nd phase of the MAR NOSTRA Project funded by Sunseeker in 2018 to the value of 29.000€.
The MAR NOSTRA project aims to address marine sustainability, control and mitigation of the effects of fishing, waste reduction in the sea, marine education programs, conservation and management of coastlines and marine protected areas (Parc Natural des Grau, Marine Reserve in the North of Menorca and Marine Reserve Illa de l'Aire).
The MAR NOSTRA Project works closely with coastal entities, protected marine zones and educational bodies to create more sustainable practices within these areas. In the new proposal they have identified their latest plan of action relating to the continued development of a more sustainable marine environment.
The continuation of this project will see a greater push to reduce plastic use and waste by holding talks, screenings and creating agreements with organisations who tend to use single-use plastic products. The project aims to increase all education and awareness programs surrounding sustainable development, fishing, environmental conservation and the importance of marine protection. MAR NOSTRA also involves working closely with the fishing communities to promote and create sustainable nautical activities and fishing.
Project collaborations:
LEADER association and Marilles Foundation
The projects specific objectives are:
Specific Objective 1 – Sustainability in nautical activity
Measures in favor of marine meadows: Follow-up of the implementation of the proposed actions in favor of seagrass meadows. These measures will be covered by the compensation of €200,000 that Ports de les Illes Balears proposed in 2010, to compensate for the destruction of a Posidonia oceanica meadow during the construction of the Son Blanc harbour arm in Ciutadella, which has been incorporated into the 2019 budgets.
Specific Objective 2 – Problems of waste at sea:
Reduction in the generation of plastic waste by campaigning against single-use plastic tableware. Agreements with at least 10 organizations of the island that use high quantities of tableware in their celebrations (CEIPs, Sports Clubs, etc). Agreements would be signed where a batch of biodegradable crockery would be delivered in exchange for their commitment not to use single-use plastic tableware.
Reduction of plastic bags in stores by acquiring 20,000 paper bags and distribute them to 20 committed stores throughout the island. Check that the bags are exposed to the public.