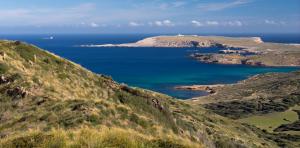 Grants
Land
Ateneu de Mahón | Pollution & Us
€600 (the remainder of the funds is being contributed equally by the Ateneu itself and from GOB) awarded
Name of project:
Are we polluting?
The Ateneu de Maó scientific and cultural association and GOB, in collaboration with the Menorca Preservation Fund, are organising a series of four round table discussions. The round table events aim to discuss and raise awareness about the importance that people's personal attitude plays towards reducing environmental pollution. Discussions will cover issues of water and energy consumption, pollution within domestic activities, circular economy and the effect pollution has on our health, with experts participating from each field.
Organisation requesting funding:
Ateneu de Maó, Científica, Literari i Artístic;
The Ateneu de Mahon is a scientific, literary and cultural non-profit organisation founded in 1905 and which carries out events linked to their areas of interest through-out the year. They have over 800 members.
Issue of Concern being addressed:
An educational activity looking to increase knowledge around key Environmental & Sustainability matters.
Project Overview:
To raise awareness about the importance that people's personal attitude plays towards reducing environmental pollution.
After the cycle of round tables organised last autumn by the Ateneu de Maó and GOB to analyse the 25 years of the declaration of Menorca as a Biosphere Reserve, the Ateneu now present a continuation, focusing on the importance of the "The attitude of each person and company in the reduction of environmental pollution"
Gas emissions, water pollution or the omnipresence of plastic waste are questions that concern society. Often we tend to think that it is the administration who has to solve these serious problems, and without a doubt that it is often the case but not always. Therefore, the aim is to reflect on the pollution that we each produce ourselves or through our companies, and that is in our hands to reduce. Our way of consuming, the products we use, the way we build etc. all generates contaminants that affect the environment and that our body absorbs.
In this cycle, the Ateneu aims to go over these issues with experienced people and evaluate the range of solutions that we have at our disposal. As well as look at solutions that are already being carried out.
Project collaborations:
GOB and the Menorca Preservation Fund
General project objective:
After the success of last year's round table events, which the MEPF also helped fund, the Ateneu wants to continue to educate on the importance of people's attitudes in reducing environmental pollution. It will follow this same format and carry out 4 round table events with each focusing on a key topic related to our role in creating pollution.
These four round table events will revolve around the following themes:
Are we polluting with our water and energy consumption? Reality and Alternatives
Pollution at home: food, cleaning products, plastics…
Alternatives: circular economy, locally sourced, responsible practices…
Contaminating our bodies: The effect of pollution on our health.
Chronology:
The round table events will take place on the following dates: October 17th, October 31st, November 7th, November 14th