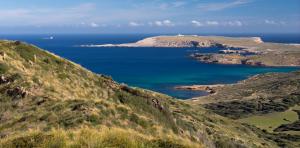 Grants
Land
GOB – Local Produce Diversification
€8429.65 awarded
Organisation requesting funding:
GOB (Grup Balear d'Ornitologia i Defensa de la Naturalesa) is a nonprofit making ecological association, which has been working in the Balearic Islands since 1973. The Menorca branch, which was created in 1977, now has more than 1,200 members.
Its primary objective is to contribute to the achievement of a sustainable economy, which by implication requires making human activities compatible with environmental values.
Issue of Concern being addressed:
Local produce promotion, diversification of product available and improvement of fresh water access
General Project Objective:
This project is looking to promote and increase demand for local produce coming from GOB's farm stewardship programme, diversify the products available in order to better meet nutritional needs and improve access to rain water through improving rainwater catchment tanks and controlling water consumption.
Project Overview:
GOB supports a very important farm stewardship project on Menorca and the MEPF have supported these farmers to improve their access to fresh water through repairing rain water catchment wells over the last two years.
The aim of the farm stewardship project is to ensure the responsible management of the land but also to support local produce and those living off the land. The aim is to increase direct access to local produce in order to ensure fairer prices for these farmers and at the same time guarantee the publics access to healthy, sustainable and fresh produce.
In addition, climate change and the increased temperatures in Menorca mean that access to fresh water is ever more necessary. However, in order to reduce the amount of water the farms draw from the general aquifers, GOB has worked on restoring tradition rainwater catchment wells and animal drinking troughs in order to better guarantee the farmers and their animals, as well as wild animals, access to fresh water.
Specific objectives:
Local produce:
Product diversification on 7 farms in the farm stewardship programme. This idea has come about as a result of the current Covid-19 crisis where the farmers have had a higher demand from private households for local produce, but realised they needed to improve the variety of what they could offer to cover nutritional needs. Therefore, they are now looking to increase their production to fruit varieties. The fruit trees to be planted would be; fig trees, pomegranate, almonds, peaches among others.
Also, GOB are very keen to promote the local produce in order to increase the demand and access to these products, as well as demonstrate the benefits to our health and environment in this sector. They would also like to carry out activities such as: show-cookings, markets, raffles, etc.
Water resources:
The recovery of an above land well with the capacity to hold 35m3 as well as animal drinking troughs on the same farm.
Place a water consumption meter on the farms well in order to understand the levels on consumption they are having and try and improve the use of this resource.
Project collaborations:
Caixabank and Pou Nou have provided €2000 of funding.
MEPF Funding areas:
1.1. – Local produce diversification: €2.162
2.1. – Recovery of above land wells: €5.713
2.2. – Water consumption meters: €554,65
Total amount: €8429.65