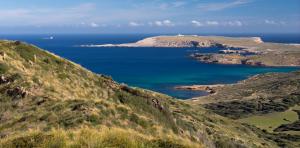 Grants
Land
COVID-19 Emergency Food Project
€5,000 awarded
Name of Project:
Decreasing vulnerability through local produce support for 1 month
Organisation requesting funding:
Sa Cooperativa del Camp (Farmers Cooperative)
Issue of Concern being addressed:
The vulnerability of both local farmers and vulnerable low-income families due to COVID-19 situation.
Value of Grant:                                                       
42,000€               
General project objective:                           
Provide local, fresh produce to 140 families for one month.
Project Overview:
The Farmers' cooperative and Farmers and Co. did an amazing amount of work over the lockdown to try and stop our local produce going to waste due to the closure of hotels and restaurants but also by launching an initiative that could ensure safe shopping of local produce through home delivery's.
This initiative worked very well as it gave a great outlet to our local produce, in addition to supporting our farmers economically. However, there was still a significant amount of excess produce (potato, fruit, vegetables, cheese and meat) which would potentially go to waste.
At the same time, the Red Cross had registered a 25% increase in the number of vulnerable families needing support in purchasing basic food supplies and in particular fresh and healthy products.
In order to address both of these concerns, the Menorca Preservation Fund raised funds to help the Red Cross buy the surplus products from our local farmers, in order to ensure their incomes and survival, and then deliver these very necessary goods to the families most in need of support during this crisis.
The food purchased was prepared by the Cooperativa del Camp in weekly boxes per family and it was calculated that the approximate cost of providing each family with these goods for 1 month was €105 per family.
There were over 32.000€ fundraised for this project, which enabled us to purchase 20 tones of exceeding local produce. This food was delivered to 917 people, 140 families, that had been previously identified by the Red Cross. These 140 families exclude those from the farmers who the products were purchased from and who of course also benefited from the initiative
Achievement: 140 families (917 people) received the boxes.
You can watch the video by following this link.
Project collaborations:
Local farmers, Farmers and Co, the Farmers' Cooperative, and Artiem Hotels.
The cooperative has also had funding from Fundació Sa Nostra and Caixabank.
Budget:
The cost of delivering these weekly baskets of fresh produce (potatoes, fruit, veg, meat and cheese) for one month was 105€ per family.