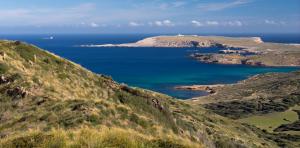 Grants
Sea
OBSAM – Impacts On Marine Environment
€3,850 awarded
Organisation requesting funding:
OBSAM – Menorca's Socio-environmental Observatory.
Issue of Concern being addressed:
Increasing knowledge of the factors that can have an impact on Menorca's marine environments.
Project Overview:
This study aims to evaluate the pressures and threats that exist on the coast and the marine environment of the Biosphere Reserve of Menorca. In order to detect existing impacts and determine the costs and actions to be carried out to reverse and restore the affected habitats. This is a two-year project due to the volume of work and data it implies. The work to do is divided into three large blocks:
Study of the threats and pressures of the marine environment of Menorca
Recovery costs recovery after an impact
Prioritization of actions
To develop the project, the pressures and threats will be divided into two packages, one for each year that is planned for the execution of the project. The first year will evaluate the first package of pressures that will be greater and in the second year will evaluate the rest of pressures and a list of prioritised actions will be carried out for each impact evaluated.
This project is based on the desire to deepen the work done in 2015 by the Directorate General of Water Resources, with the study Analysis of pressures and impacts on the state of the water bodies of the Balearic Islands. In this study, the pressures and impacts in the waters of the Balearic Islands were assessed in the context of the Water Framework Directive (DMA). That is why we want to work with a more precise scale and apply a more appropriate methodology for small territories such as Menorca.
Project collaborations:
Biosphere Reserve Agency
General project objective:
Contribute to the improvement of the state of conservation of marine ecosystems and to be able to contribute to reverse, as much as possible, the impacts that are already affecting the marine environment.
Specific objectives
Inventory of threats and pressures on the coast and the marine environment of the biosphere reserve
Identification of pressures and threats.
Map of severity of pressures and threats
Detection of possible impacts and evaluation of their intensity and reversibility
Determine the costs and actions to reverse and restore the affected habitats
Prioritize the actions to be carried out
Basic tool for the zoning of activities and for the management of marine spaces
Delimitation of the study area:
The project will focus from the coast to the limit of the Biosphere Reserve (approximately to the territorial sea), considering the pressures and threats coming from the land and that may affect marine ecosystems.
Methodology and information processing:
For the development of the project, a methodology has been defined divided into four blocks: 0. Coordination; 1. Study of threats and pressures; 2. Severity assessment; 3. Prioritisation.
Project phases:
The aim would be to complete the study by the end of 2021. However, the first phase – and for which funding is being requested would be completed by October 2020.