4 young Menorcans enjoy the "Kilometres of plastic for Iris" prize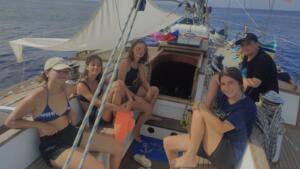 Carla Vidal Carretero and Martina Ledesma Aguilar, students of IES Josep Miquel i Guardia and winners in the senior category in Menorca of the "One minute for your island" contest of the Kilometres of Plastic for Iris project, have enjoyed this week the prize of the initiative on board the sailing boat "Bon Coeur" of the scientific organisation Alnitak Research Institute together with their 4 companions from Ibiza and Mallorca.
During this 7 day expedition in the Cabrera area, they participated in various marine conservation activities and collected valuable data:
Spending 7 days on board the sailing boat Alnitak has been a unique experience. It has helped us to learn many things related to the project we have carried out as well as in terms of coexistence and teamwork.

Carla and Martina
On Saturday 15 July, the 6 senior winners gathered at the port of Colonia Sant Jordi in Mallorca to board the "Bon Coeur". After receiving an instruction session by Alexander Sanchez, principal investigator of Alnitak, and Captain Sylvain, the young people acquired basic knowledge about the objectives, tasks and roles they will play during the expedition. They then hoisted the sails and set sail for the Cabrera National Park, an area of great interest for its marine biodiversity.
The 0 Plastic Warriors have had the opportunity to immerse themselves in marine conservation first hand, see what it is like on board a grassroots research vessel, and witness first hand the different types of marine debris in the coastal and open ocean ecosystem. Their enthusiasm and dedication has been inspiring, and I am confident that they will become agents of change in protecting our environment.

Alexander Sanchez, Principal investigator & cetacean researcher
These expeditions are the finishing touch to this third edition of the competition, promoted by 0 Plastic Menorca with our support along with Mallorca Preservation Fund and IbizaPreservation, and which this year has had the participation of more than 400 young people from the Balearic Islands, aged between 13 and 19, 30% of whom were from Menorca.
In addition, he "One Minute for your Island" contest, open to all participants in the initiative, focused this year on the issue of microplastics. A total of 202 students from the Balearic Islands submitted their one-minute video proposal answering the question "What would you do to fight against microplastic pollution on your island", 26% more than in 2022. Ideas contributed by the participants included: making sun creams based on organic ingredients and without added microplastics with a packaging made from nopales; or launching a public art and design competition where local artists create works of art from reused materials and citizens vote through an app that also shows the nearest recycling points.