The Iris Project – Virtual Award Ceremony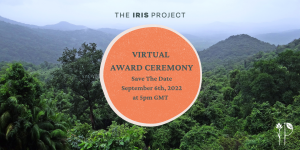 🏆Next week The Iris Project will announce the winners of the Seed 🌱, Stem 🌿 and Iris Prize awards. The team received 170 project proposals from young people from over 40 countries, combining a wide range of thematic innovations. Join in celebrating the winners as we recognise these incredible young leaders who are bringing communities together to protect and restore nature:
Iris Prize 2022 Award Ceremony
📅 Tuesday 6 September
🕞 19h (Madrid – Central European Time)
📍 Virtual, Register 👉 Eventbrite
What is The Iris Project?
The Iris Project is run in collaboration with Global Greengrants Fund, and has been established in memory of Iris Goldsmith, who died in a tragic accident aged 15. Iris had a deep and lifelong connection with the natural world, a gentle way with animals, and a particular love for the sea. In her memory, we are building a global community of young people working to protect and restore their local natural environment. As well as empowering action through the annual Iris Prize, the Iris Project will connect young people from around the world to share learnings, provide support and advocate for change.
The Prize
The Iris Project will award an annual 'Iris Prize' to three outstanding individuals who best embody the spirit of the Iris Project – championing the protection and restoration of nature, and the rights of those who defend it. Three grants will be awarded each year in conjunction with a locally-delivered capacity building programme, facilitated by our Advisory Panel. Prize applications are currently closed and will re open in March 2023.