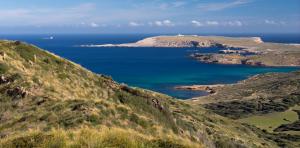 Grants
Sea
Radio Far – KM0
1.370€ awarded
Organisation applying for funding
Es Far Cultural – This organisation is a cultural association dedicated to education, art and research, mainly within the field of culture, history and the environment.
Area of interest
Environmental issues concerning water, waste, energy and biodiversity.
Summary of the project
The project is based on a radio programme made up of 15 episodes with the main objective of raising awareness and sharing expert knowledge related to environmental problems, whilst encouraging habits and behaviours, both individual and collective, which can achieve improvements within the natural environment and biodiversity of Menorca.
The main themes throughout the show are categorised into: fresh water, waste management, responsible consumption and biodiversity.
The programme was developed within the framework of the independent radio project that the association 'Ràdio Far' broadcast on its own platform, as well as on its social networks. Ràdio Far is currently working on a new podcast season launching in autumn-winter 2021.
Episodes consist of conversations between interviewees and a presenter on one of the specific themes. The project was carried out by recording podcasts of 12 interviews and 3 sound creations.
General Objectives
To raise awareness of the environmental issues faced on the island and to encourage a change in individual and collective habits and behaviour.
Specific Objectives
To educate listeners about the main environmental problems in Menorca within the main themes: fresh water, waste management, responsible consumption and biodiversity.
To give tools, guidelines and general advice to the population on the possible measures that can be taken both individually and collectively.
To mitigate the negative effects of certain actions and to promote appropriate and environmentally friendly behaviour.
To promote local entities, organisations, interest groups and NGOs working to improve Menorca's natural environment.
To provide an innovative artistic experience that would evoke new experiences around the recorded interviews.
Final results
Links to all the podcasts
SEASON 1 (2020)
Block 1: WATER
・KM0 01 → Aurora Suarez. The plant nursery of Menorca.
・KM0 02 → Francesc Font.
・KM0 03 → Jesus Cardona. El consum d'aigua a ca nostra.
・KM0 04 → Aigua. Sound creation by Marina EG
Block 2: WASTE
・KM0 05 → Noemi Garcia. Preventing food waste.
・KM0 06 → Marta Perez. Plastic Free Menorca.
・KM0 07 → Maria Elena Cefali. Waste in the sea.
・KM0 08 → Waste. Sound creation by Marina EG
Block 3: BIODIVERSITY
・KM0 09 → Victor Carretero. La posa d'ous de tortugues a Menorca.
・KM0 10 → Begona Rodriguez. The parc de s'Albufera des Grau.
・KM0 11 → Miguel Truyol. Les abelles.
・KM0 12 → Biodiversity. Sound creation by Marina EG.
Block 4: CONSUMPTION
・KM0 13 → Xavier Camps and Josep Pons. Energy office 2030 Biosphere Reserve.
・KM0 14 → Carol Diesel. Cultural consumption: the museum of Menorca.
・KM0 15 → Food Consumption. Paem (organic food producers of Menorca).
・KM0 16 → Season 1 final summary
Interviews were conducted with people who bring value and enhance the future to Menorca.
The number of visitors on the KM0 radio programme was estimated at 7,124. Listeners were loyal to the programme and overall the Ràdio Far website received a total of 48,323 visits.
SEASON 2 (2021)
・KM 17 →  Tramuntana school and its garden
・KM 18 → Alaior University and environment
・KM 19 → The kitchen in Mare de Déu del Carme School (Maó)
・KM 20 → Sant Climent School's environmental model
・KM 21 → Studying at Sa Granja for a degree in agriculture and livestock farming
・KM 22 → Students and environment in Cap de Llevant
・KM 23 → Season 2 Final summary
・KM 23 → Special Menorcan Crafts