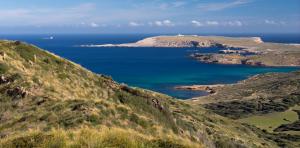 PROYECTOS
Mar
Radio Far – KM0
1.370€ donados
Organización Solicitando Financiación
Es Far Cultural. Esta organización es una asociación cultural que se dedica a la formación, el arte y la investigación, principalmente en el entorno de la cultura, la historia y el medio ambiente.
Áreas de interés
Problemas ambientales centrados en los ejes de agua, residuos, energía y biodiversidad.
Resumen del Proyecto
El proyecto de la asociación ES FAR CULTURAL se basa en un programa de radio de 15 capítulos cuyo principal objetivo es sensibilizar e informar sobre los problemas medioambientales, tratando de fomentar hábitos y comportamientos tanto individuales como colectivos, para conseguir una mejora del entorno natural de Menorca.
Los temas principales de estos programas se centrarán en el agua dulce, la gestión de residuos, el consumo responsable y la biodiversidad.
El programa se desarrolla en el marco del proyecto de radio independiente que la asociación, denominada RÀDIO FAR, que lanza una nueva temporada de programas en formato podcast formato podcast que se emitieron por su propia plataforma (www.radiofarmenorca.com) así como a través de sus redes sociales.
El contenido del programa consiste en capítulos de diálogos entre dos entrevistados y una presentadora sobre alguno de los ejes temáticos. El proyecto se llevó a cabo mediante la grabación de podcast de 12 entrevistas y 3 creaciones sonoras.
Objetivos Generales
Concienciar sobre los problemas medioambientales y fomentar cambios en los hábitos y comportamientos individuales y colectivos.
Objetivos Específicos
Informar sobre los principales problemas ambientales de Menorca dentro de los principales temas: agua dulce, gestión de residuos, consumo responsable y biodiversidad.
Dar herramientas, pautas y consejos generales a la población sobre las posibles medidas que se pueden tomar tanto individual como colectivamente para paliar sus efectos negativos y promover un comportamiento adecuado y respetuoso con el medio ambiente.
Promocionar a las entidades locales, organizaciones, grupos de interés y ONG que trabajan en Menorca.
Proporcionar una experiencia artística innovadora que evocara nuevas experiencias en torno a las entrevistas grabadas.
To provide an innovative artistic experience that would evoke new experiences around the recorded interviews.
Resultados
Links to all the podcasts
TEMPORADA 2 (2020)
Bloque 1: AGUA
・KM0 01 → Aurora Suárez. El plan piloto de Menorca.
・KM0 02 → Francesc Font.
・KM0 03 → Jesus Cardona. El consum d'aigua a ca nostra.
・KM0 04 → Agua, Sonido. Marina EG
Bloque 2: RESIDUOS
・KM0 05 → Noemi García. Evitar el desperdicio de alimentos
・KM0 06 → Marta Perez. Plastic Free Menorca.
・KM0 07 → María Elena Cefali. Residuos en el mar
・KM0 08 → Residuos, Sonido. Marina EG
Bloque 3: BIODIVERSIDAD
・KM0 09 → Victor Carretero. La posa d'ous de tortugues a Menorca.
・KM0 10 → Begona Rodriguez. The parc de s'Albufera des Grau.
・KM0 11 → Miguel Truyol. Les abelles.
・KM0 12 → Biodiversity. Sound creation by Marina EG.
Bloque 4: CONSUMO
・KM0 13 → Xavier Camps and Josep Pons. Energy office 2030 Biosphere Reserve.
・KM0 14 → Carol Diesel. Cultural consumption: the museum of Menorca.
・KM0 15 → Food Consumption. Paem (organic food producers of Menorca).
・KM0 16 → Season 1 final summary
Se entrevistaron a personas que aportan valor y futuro a Menorca.
Se calcula que la cantidad de visitas al programa de radio KmZero han sido de 7.124 visitas. El programa RADIO FAR deduce que los oyentes fueron fieles al programa y ven que la pagina web de Radio Far tuvo un total de 48.323 visitas.
TEMPORADA 2 (2021)
・KM 17 →  L'escola tramuntana i el seu hort
・KM 18 → La Universitat d'Alaior i el medi ambient
・KM 19 → La cuina de l'escola Mare de Déu del Carme (Maó)
・KM 20 → El model mediambiental de l'escola Sant Climent
・KM 21 → Estudiant a Sa Granja el grau d'explotacions agropecuàries
・KM 22 → Alumnes i medi ambient al Cap de Llevant
・KM 23 → Resumen final Temporada 2
・KM 23 → Especial Artesania de Menorca