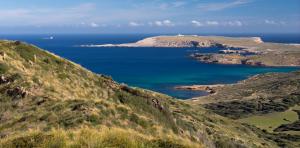 Grants
Land
Festival Internacional de Cine Menorca
1.500€ awarded
Organisation Applying for Funding
TANAGRA is the organising association of the Menorca Film Festival and Menorca365. The organisation has been organising the Menorca Film Festival for 6 years, this year celebrating its sixth edition.
Area of Interest
Environmental education through cinema.
Summary of the Project
The objective of the Film Festival 2021 'Social and Sustainable', is to reach the public through the most powerful and visual tool, which is cinema. Through film, TANAGRA wants to spread objectives such as raising public awareness of the problems we are currently facing due to climate change. The film sectors are suitable for all audiences; children, teenagers and adults, and include only films and short films with a positive message. Films are accompanied by workshops and various activities, which can then be linked to our own context in Menorca.
Objectives
To spread awareness of sustainability through film, to both local and visiting audiences.
To spread awareness of sustainability in actions related to cinema, talks, workshops, etc. Involving local audiences and young people of school age.
To reduce the amount of waste generated during the festival.
Collaborations
Balearic Centre Europe
Escola d'Art de Menorca
Principal Theatre of Mahón.
Gispert Group.
Marilles Foundation
ACIB