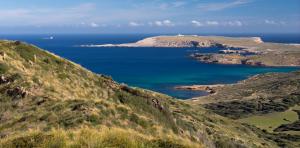 Grants
Environmental Heroes
ES FAR CULTURAL | Menorca DOC Fest
1.500 € awarded
TOTAL PROJECT COST – €5.000
IN PROGRESS
Organisation Applying for Funding: Es Far Cultural
Project Duration: August – October 2023
Area of Interest: Environmental Heroes
Other entities involved: San Luis Town Hall, Sala Albert Camus
THE PROJECT
Primary Impact
Slowing down and adapting to climate change
Summary of the project
The Menorca DOC Fest fuses documentary film and photography as a tool for dissemination, awareness and education. Through photographic exhibitions, guided tours, lectures, screenings of short and feature-length documentaries, it uses audiovisual art to reflect on the changes that our societies and culture are undergoing.
Social, Economic and Cultural Outcomes
Encouraging people to have a greater appreciation of the natural world and its value
Encouraging governments, public institutions and media to act in ways that support the natural world
Encouraging changes in public/consumer behaviour to better preserve, protect, and regenerate the natural world;Reduced waste/better waste management
Description of the project
For the past few years, Menorca Doc Fest has been programming a section of the festival devoted exclusively to raising awareness of environmental issues. Its focus is to address these issues through the following actions:
Support for the creation of audiovisual documentaries dealing with the environment and biodiversity.
Dissemination of these same audiovisual productions through screening sessions open to the public.
Organisation of a professional conference to rethink the forms of audiovisual production with the aim of making them more sustainable.
For this edition, the Menorca Doc Fest proposes to launch a call for the creation of short documentaries with a local impact, supporting production companies or audiovisual production teams on the island and promoting the creation of short documentaries on the environment, nature, sustainability, biodiversity, ecology, science and biodiversity, ancestral trades and ways of life linked to the context of Menorca in the fulfilment of the SDGs.