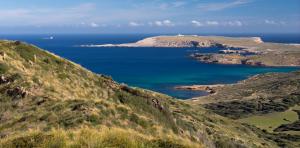 Grants
Land
GOB | Fresh Water Project – Phase 2
€6,535.00 awarded
Organisation requesting funding:
GOB (Grup Balear d'Ornitologia i Defensa de la Naturalesa) is a nonprofit making ecological association, which has been working in the Balearic Islands since 1973. The branch which works in Menorca was created in 1977 and now has more than 1,200 members.
Its primary objective is to contribute to the achievement of a sustainable economy, which by implication requires making human activities compatible with environmental values.
Issue of Concern being addressed:
Fresh water management.
Project Overview:
Improving the state of water resources in aquifers is one of the challenges that the island of Menorca must seriously address. The lowering of the level of water contained in the subsoil has been scientifically proven, which implies the danger of salinization of wells (by marine intrusion) and loss of fountains and other natural elements that contributed permanent water points to the wild fauna. The arrival of pumping engines in the 1960s and 1970s led to the abandonment of the old culture of rainwater harvesting, which was widespread on the island. Faced with climate change scenarios, it is necessary to recover underground reservoirs of the aljibes type and restart rainwater or surface water collection in order to alleviate the extractions from the aquifer while at the same time increasing the availability of water at strategic points on farms. The Menorca Preservation Fund agreed to funding the Fresh Water component of the project.
Project collaborations:
Fundación Mava
Consell Insular de Menorca
General project objective:
Improvement of fresh water resources and management at 9 farms under the  Network of agro natural farms in Menorca.
The projects specific objectives to be funded by the MEPF are:
Improvement of the recover rainwater collection systems on rooves by installing rainwater collection channels
Enabling the measurement and record the water used in each case by the installation of extraction control meter box.
Improvement of rain water catchments and usage in about 200 m3 per year and availability of spring water utilization recovering field water storage systems by restoring traditional rain water collection tanks/wells (old aljibes) and conduction channels.
Wastewater treatment improvement through: the reconstruction of a green filter for wastewater treatment and through the treatment with landscaping of a very low maintenance autochthonous plant
Chronology:
April to December 2019.