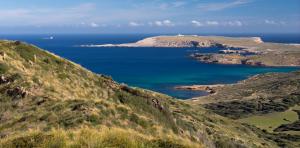 Grants
Sea
Festival de Cine de Menorca | Menorca Film Festival 2020
€2,340 awarded
Organisation requesting funding:
Tanagra & Menorca365 – International Film Festival of Menorca.
The Festival is hoping to celebrate its 5th edition from 13th to 18th July 2020. A week of cinema, and this year it will have 3 sections on sustainability and the environment. Also, the Festival is attended by professional guests from the sector who will give visibility to the films, actions taking place and Menorca itself. In addition, the Festival organizes different film activities throughout the year, specifically as part of a cycle linked with the Biosphere Reserve and part- funded by Marilles, called CineMar. The Menorca Preservation Fund has participated in a number of the CineMar sessions and the organisation has often included us in any events to raise awareness about our work or activities to carry out with their attendees.
Issue of Concern being addressed:
Cinema and film is an international tool with which we can disseminate, distract, and educate an audience of all ages.
Besides providing entertainment, the festival also aims to highlight current topical issues and bring them to public attention via the medium of film.
Amount requested from MEPF:
Total amount is €2,340
Project Overview:
The objective of the Film Festival 2020 'Social and Sustainable', is to reach the public through the most powerful and visual tool, which is cinema. Through the cinema, spread objectives such as raising awareness among the population of the problem that we are currently experiencing with climate change. The cinema sections are appropriate for all audiences; children, teenagers and adults, and always with movies and short films that have a positive message. These are then accompanied by workshops and various actions, which give even more content, and with which can then be linked to our own context on Menorca.
The headline sections of the festival are:
The Young Talent Section, which selects short films with a sustainability theme and the Cinema & Reserve section. The latter will have one film session and two sustainability sessions, with the aim of raising awareness in society, through images.
In addition to an activity dedicated to families; workshops, visits to beaches and waste collection areas, in order to give particular priority to the damage that plastic leaves in our seas and coastline.
In addition, every year the Festival aims to work towards being a more sustainable festival. For 2020, it will adhere to the 2030 Agenda and the fulfillment of the possible SDGs.
The obligation of the festival is to offer quality entertainment, but with the aim of raising public awareness. The organisers aim to work with companies who are sustainably aware such as; hotels, rental cars, catering, merchandising, paper disposal etc. Equally, they are also trying to ensure that all advertising and dissemination materials are on recycled paper, and will improve on this in every way and every year in order to make the festival and their goals more visible and effective.
Project collaborations:
Per la Mar Viva, Fundación Marilles, Agencia de la Reserva de la Biosfera, El Consell Insular de Menorca and GOB Menorca.
Chronology:
13th to 18th July 2020