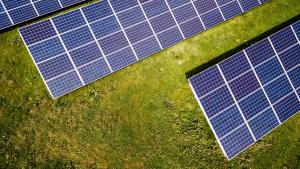 Grants
Renewable Energy
ALIANZA MAR BLAVA | Renewable Energy
€2,500.00 awarded
Organisation requesting funding: Alianza Mar Blava

Alianza Mar Blava is an inter-sectoral platform which aims to protect the Mediterranean Sea. Its origins started with a campaign to put an end to the threat to the Balearic economy and environment posed by oil exploration projects and has developed into an association working towards a new legislative model based on renewable energy and addressing climate change.
Issue of Concern being addressed:
Conservation of the Mediterranean Sea with a particular focus on climate change and renewable energy.
Project Overview:
Alianza Mar Blava requested funding to address two issues:
To ease cash flow. (Currently they receive 97% of funding from public institutions and as these organisations pay after the activities are concluded they have a cash flow challenge).
To support their campaign to back the very recently proposed new Balearic law for Climate Change and Energy Transition proposed by the Balearic Government.
Project collaborations:
The Alianza applied for 20,000€ to be funded as follows:
10,000€ from Marilles Foundation/ 5,000€ from Ibiza Preservation Fund / 2,500€ from Mallorca Preservation Fund / 2,500€ from Menorca Preservation Fund.
General project objective:
Ease the Alianza Mar Blava's cash flow challenges and enable more time to be dedicated to supporting and seeking support for a new model in the Balearics that addresses climate change and improves the use of renewable energies.
The projects specific objectives are:
Ease cash flow: due to the 97% public funding the Alianza receives they blocked in a vicious circle of working on getting the funds back from the administrations and lacking funds. These funds would ease the cash flow and enable them to develop a strategy to increase the amount of private funding they raise.
Climate change and renewable energy legislation: The Balearic government have launched an ambitious programme to address both climate change in the Balearics and very significantly increase the amount of energy produces from renewables. The Alianza aims to raise awareness for the importance of a legislative plan such as this amongst the general public, private sector and public sector in order to help try and achieve the approval of a useful and effective legislation. 
Project phases:
The bulk of the work will take place in 2018 although the legislative process is expected to go into 2019 and therefore the Alianza expects to continue its work on this matter until that time.
Chronology:
Alianza Mar Blava aims to change their current funding model to increase the amount of private funds they receive before the end of 2018, although this will remain an ongoing process. In addition, the aim is for the new climate change legislation to be approved and passed before the next elections (June 2019)