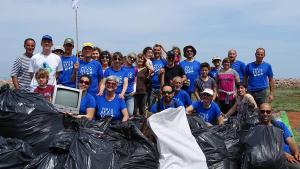 PROYECTOS
Mar
PER LA MAR VIVA | Proyecto de Limpieza Costera
Monto subvencionado: 692€
Organización solicitante de la financiación:

PER LA MAR VIVA (PLMV), una pequeña asociación, fundada 8 de noviembre de 2017 después de años de investigación y observación de la cantidad de plásticos que termina en el puerto de Ciudadela, y en el litoral menorquín. Su fundador, Carlos Salord, un fisioterapeuta local, se ha movilizado para promover esta organización sin ánimo de lucro después de años viendo la indiferencia para cambiar la situación.
Per la Mar Viva, tiene el objetivo de concienciar a las Administraciones públicas, empresas, organizaciones privadas, colectivos y personas físicas para reducir cualquier vertido de basura en las aguas de Menorca a través de una excelente gestión de los residuos y contribuir así a la reducción de los plásticos encontrados en el mar y el litoral costero.
Además de educar en esta materia, PER LA MAR VIVA también tiene como objetivo limpiar el litoral de Menorca y utilizar dicha limpieza como material de investigación para señalar la falta de ineficiencia de los actuales sistemas.
Área de interés trabajada:
Este proyecto tiene como área de interés los residuos plásticos que contaminan el litoral (basura marina)
Valor del Proyecto:
12 cleaning sessions around the coastline with an approx. cost of: 700€. This includes insurance in case of anybody getting hurt, water and fruit for volunteers, petrol for the boat supporting the cleans, first aid kits, materials such as gloves and industrial bin bags. None of this includes anybody's time.
Resumen del proyecto:
El objetivo general de este proyecto es la limpieza de diferentes áreas de la costa donde se acumulan grandes cantidades de plástico y otra basura. No obstante, además, PER LA MAR VIVA tiene como objetivo documentar la cantidad de basura recolectada, las áreas donde los actuales servicios no están llegando o donde podría mejorarse el servicio y cuantificar el tiempo necesario a ser invertido para la limpieza total de las áreas. Una vez recolectada la información esperan poder proveer una propuesta sobre cómo mejorar el actual servicio de limpieza para la mejora de su eficacia.
Hasta la fecha se han realizado 5 excursiones y recolectado 1300kg de basura.
Colaboraciones con el proyecto:
Personas voluntarias- El Consell Insular (aportando 74€ para la adquisición de bolsas de basura industriales, y guantes de goma - Ports de les Illes Balears (proveyendo 60 bolsas de basura industriales y 40 pares de guantes de goma) - BRILLOSA empresa de servicios de limpieza (aportando 500 bolsas de basura industriales)
Objetivo general del proyecto:
El objetivo general de este proyecto es descubrir cuánto tiempo le lleva un equipo de 6 personas realizar una limpieza profunda de las áreas costeras de la isla (sin incluir playas) de plásticos y otros desechos, para contribuir con datos a la incidencia por un servicio de limpieza más efectivo por parte del Consell Insular.