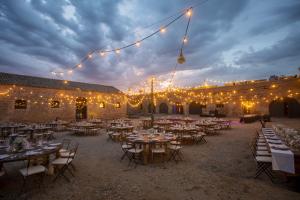 Summer Fundraising Gala 2023
---
Summer Fundraising Gala
📅 27th July 2023 at 8pm
📍 La Mola – Mahón
🌱 Minimum donation per person*: 225€
*Your donation includes: attendance to our Fundraising Event, an exclusively designed 3 course menu, all drinks, access to the event's charitable auction and raffle and a great party.
---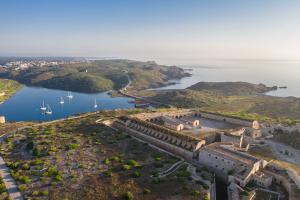 Join us for a very special night in aid of Menorca's sustainability
Following the success of last Summer's Fundraising Gala, we at Menorca Preservation are focusing on organising a new and exclusive Summer Event with the aim of raising funds to continue supporting and developing environmental projects on Menorca. Since our constitution in 2017, we have awarded over 850,000€ to the implementation of more than 80 environmental projects on the island.
🏰 La Mola Fortress
Our chosen venue for this year is the beautiful Fortress of La Mola, one of the most impressive and emblematic places on Menorca, located at the entrance of Mahón harbour with spectacular views of the bay and the coastline. This Fortress is not only one of the largest European fortresses built in the 19th century, but it has also been declared a Protected Area for Birds and a Site of Community Interest to guarantee its protection.
What will your support contribute to?
Thanks to your support by participating in any of our fundraising initiatives you will help us to continue funding environmental projects carried out by local entities in Menorca, as well as to continue catalysing strategic initiatives implemented by MeP and aimed at addressing environmental gaps, such as our training programme in sustainable agriculture MENORCA PRESERVADA. To see what we were able to do as a result of last years' event and thanks to everyone's generous support, click here .
Please join us and help us to continue working towards a more sustainable future!
---
8pm. Cocktail at La Mola's mirador & amazing welcome surpise!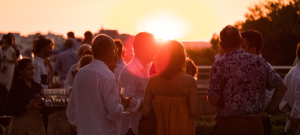 We will greet you at 8pm inside the Fortress of La Mola with a very special welcome surprise – please, make sure you are on time in order to enjoy the experience!
Then we will have a wonderful cocktail prepared by S'Algar catering while enjoying the sunset from one of the miradors of La Mola.
9.30 pm. Dinner – Menorcan Essence Menu
by S'Algar Catering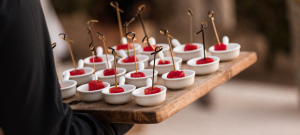 Once again, the wonderful team at S'Algar Catering has prepared a special and exclusive menu for our summer fundraising event. It is a proposal of Mediterranean cuisine, using the best products from both Menorca's land and sea, such as tomatoes from Binissaida des Barracons. We are certainly counting the hours to try it and from Menorca Preservation we could not be more grateful for their generous collaboration with our Summer Gala.
11.30 pm. A charitable auction of one of a kind experiencies
with auctioneer Beatriz Ordovás, Christie's Spain's Director and contemporary and digital art international specialist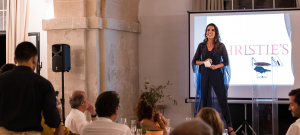 We are very honoured to once again be able to count on Beatriz Ordovás, Director of Christie's Spain and international specialist in contemporary art and digital art for the auction of one of a kind experiences.
How does the charitable auction work?
From Menorca Preservation, we are teaming up with our collaborators to bring you a number of extraordinary and one of a kind experiences available for auction. Very soon, we will release all the experiences on our website so that you can start bidding until the day of the event. After the dinner, some of them will be auctioned live by Beatriz Ordovás and others will remain available on the website for a few hours until the end of the event.
… And a Charitable Raffle!
In order to create as many opportunities as possible for all those wonderful friends and supporters of Menorca Preservation who would like to contribute to the fundraising, this year we will also be holding a charitable raffle through which we will be awarding more prizes with a focus on sustainability and appreciation of Menorca's natural environment.
Can I still take part in the raffle or in the auction if I cannot attend the event?
Of course! We'll share all the details very soon!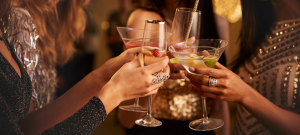 So let's get this party started! We at Menorca Preservation are extremely proud of all the work that has been achieved so far by the local organisations supported on behalf of Menorca's sustainability, and we can't think of a better way to celebrate it than alongside many of the people who have helped us get this far!
Are you ready to join us?
---
You can arrive at La Mola with your own transportation. Alternatively, we can also arrange transport for those who would prefer. In this case, for more information please contact our team by sending an email to: contact@menorcapreservation.org
🟢 About Menorca Preservation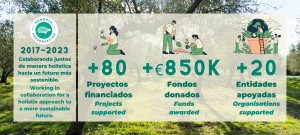 Supporting and catalysing environmental projects that contribute to the preservation of our wonderful island, focusing on 4 fundamental pillars: Sea, Land, Clean Energy and Plastic.
Our philosophy
Menorca Preservation (MeP) was founded in 2017 with the aim of preserving our natural heritage and promoting environmental awareness, by working in collaboration with local entities and environmental heroes.
What do we do?
Support initiatives for a more sustainable and Plastic Free Island.
Catalyse new initiatives, connections and partnerships.
Increase environmental awareness.
Contribute to better waste, water and clean energy management.
Support our local environmental heroines and heroes.
Preserve Menorca's biodiversity for future generations.
YOUR RESERVATION INCLUDES*
Attendance to our Fundraising Event, an exclusively designed 3 course menu, all drinks, access to the event's charitable auction and raffle and a great party. Please fill in the form below with your reservation details, and we will contact you to confirm and process the payment.
Thank you!
*LIMITED CAPACITY.